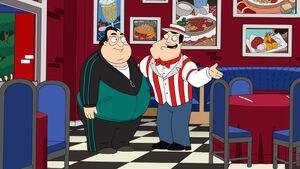 Roberto Perlas Gomez is a baritone opera singer who has performed over seventy roles with opera companies throughout the United States. These include his signature role of Figaro with Sacramento Opera, Opera San Jose, Nevada Opera, Opera Santa Barbara, Opera Idaho, and Accorde Opera in Mexico.
Roberto Perlas Gomez voices Stan's first customer in "Stan's Food Restaurant".
Ad blocker interference detected!
Wikia is a free-to-use site that makes money from advertising. We have a modified experience for viewers using ad blockers

Wikia is not accessible if you've made further modifications. Remove the custom ad blocker rule(s) and the page will load as expected.