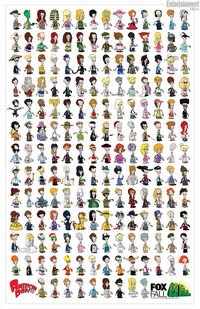 "Roger's Disguises" is a recurring gag featured in the opening sequence of each episode of the fifth season onward. In the gag, Roger interrupts Stan's Good Morning U.S.A. song dressed in a different disguise in each intro. This replaced the Newspaper Headlines gag from the previous seasons. Roger gets pushed down while Stan crashes into the CIA Headquarters flagpole.
Roger's Disguises
Season 5: 2008-2009
Season 6: 2009-2010
Season 7: 2010-2011
Season 8: 2011-2012
Season 9: 2012-2013
Season 10: 2013-2014
Season 11: 2014
Season 12: 2014-2015
Season 13: 2016
Season 14: 2016-2017
Season 15: 2017-2018
Ad blocker interference detected!
Wikia is a free-to-use site that makes money from advertising. We have a modified experience for viewers using ad blockers

Wikia is not accessible if you've made further modifications. Remove the custom ad blocker rule(s) and the page will load as expected.