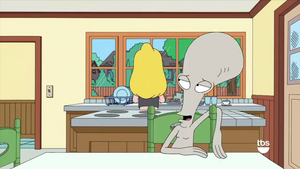 In vocal jazz, scat singing is vocal improvisation with wordless vocables, nonsense syllables or without words at all.
Roger enters the kitchen singing in scat in "Blonde Ambition".
Lyrics
scat
I'm going to go hear some jazz at Pips
And see some gorgeous half-black girls
Ad blocker interference detected!
Wikia is a free-to-use site that makes money from advertising. We have a modified experience for viewers using ad blockers

Wikia is not accessible if you've made further modifications. Remove the custom ad blocker rule(s) and the page will load as expected.