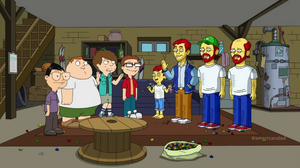 Ronald William "Ron" Howard (born March 1, 1954) is an American film director, producer and actor.
For a Lego building blocks competition in "Independent Movie", Steve Smith and his friends build life-size replicas of Ron Howard at various stages of his life, from his days as "Opie" on the Andy Griffith Show, to "Richie Cunningham" of Happy Days and as a director, both with a baseball cap and without. When Snot learns of his father's death, he shows no interest in attending the funeral. Steve forces the decision by smashing the statue of Opie, and, with the remaining figures strapped to the top of Barry's car, drive to the funeral.
Ad blocker interference detected!
Wikia is a free-to-use site that makes money from advertising. We have a modified experience for viewers using ad blockers

Wikia is not accessible if you've made further modifications. Remove the custom ad blocker rule(s) and the page will load as expected.