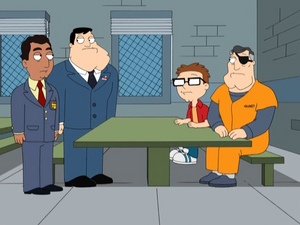 Sanjay Bhudapar is the warden at the prison where Steve finds Jack Smith is being held in "Jack's Back". When Stan expresses sarcastic surprise at finding Jack in prison, he openly questions if they are in an M. Night Shyamalan movie with Mr. Shyamalan portraying the warden who happens to be Indian. Eventually, Sanjay introduces himself as the warden.
Ad blocker interference detected!
Wikia is a free-to-use site that makes money from advertising. We have a modified experience for viewers using ad blockers

Wikia is not accessible if you've made further modifications. Remove the custom ad blocker rule(s) and the page will load as expected.