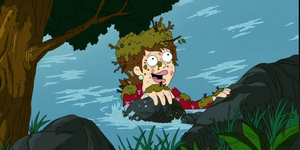 Sarah Blanch is the concrete saleswoman who was reported to have driven into a river and presumed dead in "Fartbreak Hotel". When Francine assumes her identity believing her to be dead, Sarah is shown struggling to free herself from the river, only to be struck by a passing log.
Ad blocker interference detected!
Wikia is a free-to-use site that makes money from advertising. We have a modified experience for viewers using ad blockers

Wikia is not accessible if you've made further modifications. Remove the custom ad blocker rule(s) and the page will load as expected.