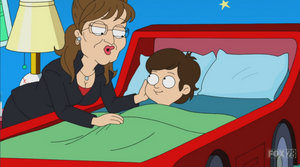 Sarah Louise Palin (born February 11, 1964) is an American politician, commentator and author. As the Republican Party nominee for Vice President in the 2008 presidential election, she was the first Alaskan on the national ticket of a major party and first Republican woman nominated for the vice-presidency.
To protect her adopted son Nemo from being killed by Stan in "Season's Beatings", Hayley sends off Nemo to Alaska to be raised by Sarah Palin and become the future Anti-Christ.
In "The Unbrave One", Stan paints Steve's room into a nursery honoring John McCain's bravery when Francine thinks she may be pregnant. Stan paints a mural honoring him choosing Sarah Palin as his running mate when he didn't know anything about her.
She is voiced by Wendy Schaal.