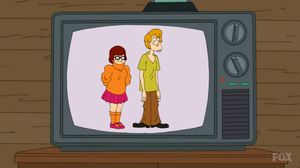 Scooby-Doo! is an animated series produced for Saturday morning television in several different versions from 1969 to the present. The original series, Scooby-Doo, Where Are You!, was created for Hanna-Barbera Productions and has produced numerous spin-offs and related works until being absorbed in 2001 into Warner Bros. Animation. They have handled production since then. All versions of the show feature a talking dog named Scooby Doo; the original series included four teenagers or young adults: Fred "Freddie" Jones, Daphne Blake, Velma Dinkley, and Norville "Shaggy" Rogers. These five characters are officially collectively known as "Mystery, Inc."
One of the "CHIA Pets" grown on the space station in "Great Space Roaster" is a bust of Shaggy's head.
Velma and Shaggy appear in "100 A.D." in an artist rendering used to describe Jeff and Hayley.
Ad blocker interference detected!
Wikia is a free-to-use site that makes money from advertising. We have a modified experience for viewers using ad blockers

Wikia is not accessible if you've made further modifications. Remove the custom ad blocker rule(s) and the page will load as expected.