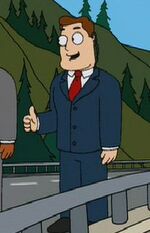 When the man who is the "single most effective weapon in the war against terror", tragically collides against the dam in his helicopter in "All About Steve" while the CIA is trying to catch a domestic terrorist, Scott volunteers to take his place, only to have a piece of the helicopter fall on him.
He appears again alive and well entering XanaBoobs in "G-String Circus" and runs the CIA obstacle course in "A Jones for a Smith".
Ad blocker interference detected!
Wikia is a free-to-use site that makes money from advertising. We have a modified experience for viewers using ad blockers

Wikia is not accessible if you've made further modifications. Remove the custom ad blocker rule(s) and the page will load as expected.