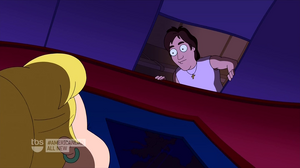 Scott Vincent James Baio (born September 22, 1960) is an American actor best known for his work on the sitcoms Happy Days, Joanie Loves Chachi, and Charles in Charge.
When Francine has a nightmare of her sister Gwen Ling and her school burning in "Now and Gwen", she is rescued by Scott Baio who directs her how to properly open the door to escape. When she awakes from her dream, she admits she needs to get over her obsession Scott as Stan wishes her luck, before replacing his Charles in Charge night mask and going back to sleep.
Ad blocker interference detected!
Wikia is a free-to-use site that makes money from advertising. We have a modified experience for viewers using ad blockers

Wikia is not accessible if you've made further modifications. Remove the custom ad blocker rule(s) and the page will load as expected.