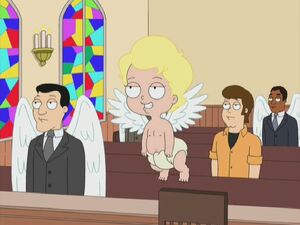 Scott LaRose is a rival lawyer angel to Michelle in "The Most Adequate Christmas Ever". When Stan requests a court hearing to demand a second chance at life, he believes Scott is inexperienced due to his young appearance until Michelle explains that each time you win a case, you get younger and cuter. Scott wins the case and is indeed shown getting even younger and cuter, but Stan obtains a 'Heaven gun' from the courtroom bailiff and fights his way to God to appeal his case.
Ad blocker interference detected!
Wikia is a free-to-use site that makes money from advertising. We have a modified experience for viewers using ad blockers

Wikia is not accessible if you've made further modifications. Remove the custom ad blocker rule(s) and the page will load as expected.