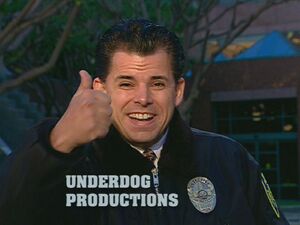 Security Officer Peña was a former employee identified as a Venezuelan immigrant in episode commentaries at the office building where Family Guy and American Dad! were produced.
Underdog Productions title cards seen at the end of each episode feature Security Officer Peña. Depending on the episode, Officer Peña waves and may say a different line:
"Bye, have a great time!"
"Bye, have a wonderful time!"
"Bye, have a beautiful time!"
"Bye bye, see you real soon!"
"Bye, have a beautiful day!"
"Have a great night!" (he simply gives a thumbs up in this variant).
Security officer Peña's catchphrase is sampled into "Free My Aunti, She Got Deported" by Wetbackmanny.[1]