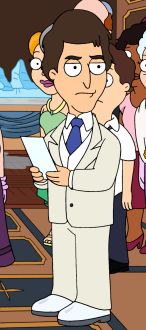 Seth Benjamin Gesshel Green (born February 8, 1974) is an American actor, comedian, voice actor, and Emmy Award-nominated television producer. He is known for his roles as Daniel "Oz" Osbourne in Buffy the Vampire Slayer, as well as Doctor Evil's son Scott in the Austin Powers series of comedy films and Mitch Miller in That '70s Show. He also voices the characters of Chris Griffin on Family Guy, and is one of the creators and producers of the stop motion comedy series Robot Chicken.
Seth Green voices Etan Cohen in "Bar Mitzvah Hustle", Joey in "Homeland Insecurity", Matthew McConaughey in "Tearjerker" and Nat in "N.S.A. (No Snoops Allowed)".
Ad blocker interference detected!
Wikia is a free-to-use site that makes money from advertising. We have a modified experience for viewers using ad blockers

Wikia is not accessible if you've made further modifications. Remove the custom ad blocker rule(s) and the page will load as expected.