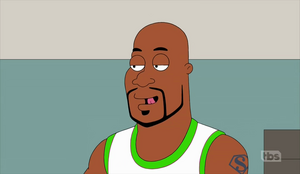 Shaquille Rashaun O'Neal (born March 6, 1972), nicknamed Shaq, is a retired American professional basketball player, sports analyst and actor.
In "Criss-Cross Applesauce: The Ballad Of Billy Jesusworth", he plays basketball with Stan and several of his friends. When Roger fractures his leg while playing with his own, younger crew, Francine suggests to Stan that he should take him to his group which plays at a more relaxed place. Stan does so to get even with Roger for his insults about Stan's age, but after helping him get his confidence back, Roger becomes Shaq's new partner in a basketball tournament. When Stan brings in Yao Ming to be his partner, both retired pros join up, leaving Stan and Roger as a team. Stan teaches Roger how to play "old style" and they make it to the finals, where Shaq is injured and unable to finish the match after Roger loosens the screws to the backboard and it falls on him, crushing his legs.
After Stan and Roger manage to defeat Yao who plays on, Klaus plots with the players on winning the following year's game.
In "Family Plan", Klaus jokes about American Brickers, noting Shaq not being able to hit free throws.
Shaq is voiced by Aries Spears.
Ad blocker interference detected!
Wikia is a free-to-use site that makes money from advertising. We have a modified experience for viewers using ad blockers

Wikia is not accessible if you've made further modifications. Remove the custom ad blocker rule(s) and the page will load as expected.