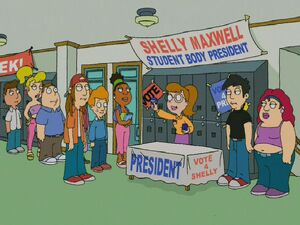 Shelly Maxwell is a student at Pearl Bailey High School.
When she competes against Steve for the school president election, Stan fakes a compromising photo of her with the Jack in the Box Man in the "Pilot" to discredit her so Steve could win.
She appears on the campus of American University in "The Devil Wears a Lapel Pin" and is one of the soccer plays that confront Steve when he gets trapped in the girls locker room in "Criss-Cross Applesauce: The Ballad Of Billy Jesusworth". She is also seen outside of the school in "Garfield and Friends", in "Kloger" and at the talent show in "The Talented Mr. Dingleberry".
Ad blocker interference detected!
Wikia is a free-to-use site that makes money from advertising. We have a modified experience for viewers using ad blockers

Wikia is not accessible if you've made further modifications. Remove the custom ad blocker rule(s) and the page will load as expected.