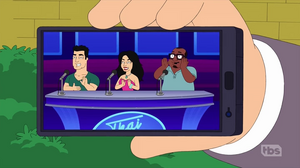 Simon Phillip Cowell (born October 7, 1959) is an English television personality, A&R executive, television producer, and entrepreneur. He is famous in the United Kingdom and in the United States for his role as a talent judge on TV shows such as Pop Idol, American Idol, The X Factor, and both Britain's and America's Got Talent.
Simon appears as one of the judges of Thai Idol in "The Bitchin' Race" where the team of Roger and Johnny Bananas are applauded for singing "Ghostbusters".
Ad blocker interference detected!
Wikia is a free-to-use site that makes money from advertising. We have a modified experience for viewers using ad blockers

Wikia is not accessible if you've made further modifications. Remove the custom ad blocker rule(s) and the page will load as expected.