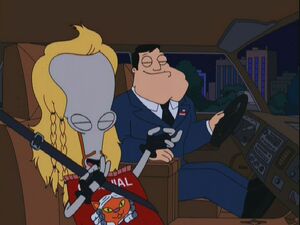 Stan and Roger sing along to "Sister Christian" by the band Night Ranger in the car on the way to rescue Jeff Fischer from his father Henry Fischer who attempts to frame him for pot possession in "Joint Custody". After trapping Stan and Roger in his barn full of marijuana, they escape after setting the barn on fire. After singing, Stan realizes singing Night Ranger is one of the signs of being high.
The actual pop recording of "Sister Christian" is also played in "Dope & Faith" when Stan thinks of his own heaven with Brett.
Lyrics
Together: You're motoring
What's your price for flight
Roger air guitar solo: dink da, da dink dink da..."
Together: In finding mister right
Roger air guitar solo: dink da, da dink dink da..."
Ad blocker interference detected!
Wikia is a free-to-use site that makes money from advertising. We have a modified experience for viewers using ad blockers

Wikia is not accessible if you've made further modifications. Remove the custom ad blocker rule(s) and the page will load as expected.