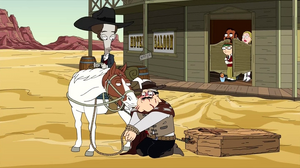 Skippy is Roger the bounty hunter's horse in "West to Mexico".
Roger seeks Stan who is falsely wanted for the murder of his commanding general during the civil war. The trail leads him to the town of Consternation, AZ where he falls off of Skippy in a stupor. Stan who has also just arrived in town offers Skippy some water which is appreciated.
Roger had taken note of this act of kindness because when they later face the outlaw Bullock gang, he instructs Stan to pat the gun just like he did Skippy. They kill the gang, but Roger is mortally wounded and leaves Skippy in the care of Stan.
Ad blocker interference detected!
Wikia is a free-to-use site that makes money from advertising. We have a modified experience for viewers using ad blockers

Wikia is not accessible if you've made further modifications. Remove the custom ad blocker rule(s) and the page will load as expected.