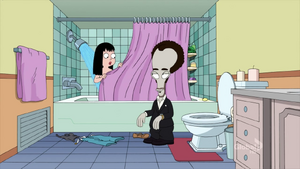 "Someone to Watch Over Me" is a song composed by George Gershwin with lyrics by Ira Gershwin from the musical Oh, Kay! (1926). Hayley Smith sings it in "Love, American Dad Style". It is also the fourth track on Rachael MacFarlane's big band album Hayley Sings.
Lyrics
There's a someone I've been longing to see,
I hope that he turns out to be
Someone to watch over me.
I'm a little lamb who's lost in a wood.
I know I could always be good
To one who'll watch over me.
Although he may not be the man some girls think of
As handsome to my heart
He carries the key.
Won't you tell him please to put on some speed
Follow my lead, oh how I need
Someone to watch over me.
Ad blocker interference detected!
Wikia is a free-to-use site that makes money from advertising. We have a modified experience for viewers using ad blockers

Wikia is not accessible if you've made further modifications. Remove the custom ad blocker rule(s) and the page will load as expected.