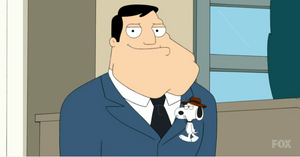 In the comic strip, Peanuts by Charles M. Schulz, Snoopy was often stated to have seven siblings. Five appeared at various times in the strip: four brothers, Andy, Marbles, Olaf, and Spike; and one sister, Belle. The two others were never mentioned by name in the comic strip. Spike appeared most frequently in the strip. His appearance is similar to that of Snoopy, but he is substantially thinner, has a perpetually sleepy look, and sports a long, droopy mustache and a fedora.
Spike is ranked eighth on Stan's Top Ten Favorite Dogs he counts down in "The People vs. Martin Sugar".
Ad blocker interference detected!
Wikia is a free-to-use site that makes money from advertising. We have a modified experience for viewers using ad blockers

Wikia is not accessible if you've made further modifications. Remove the custom ad blocker rule(s) and the page will load as expected.