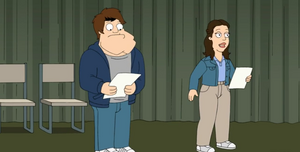 Stacy is one of Roger's acting students at the Blackbox Theater in "A Piñata Named Desire".
When Stan is forced to admit he can't act, Roger puts him in his acting class. He has Stan read a scene from the movie Wargames with Stacy. When Stan fails to react suitably, Roger takes Stacy's place, sending her off on an errand for butterscotch, without telling her exactly what kind of butterscotch to get. Roger helps Stan master acting but when Stacy returns with an assortment of butterscotch items Roger throws them away except for butterscotch pudding which he smears on himself, although this fails to get a reaction from the rest of the class.
Lucy Lawless provided the voice of Stacy.
Ad blocker interference detected!
Wikia is a free-to-use site that makes money from advertising. We have a modified experience for viewers using ad blockers

Wikia is not accessible if you've made further modifications. Remove the custom ad blocker rule(s) and the page will load as expected.