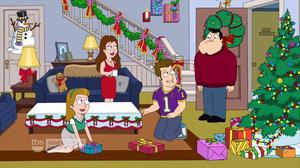 When Stan wishes he had Principal Lewis' wild single lifestyle in "Dreaming of a White Porsche Christmas", an inopportune wish with a magic angel tree topper allows him to switch places, although he finds to his horror that Lewis has instead inherited his family. When he is gunned down by the CIA after trying to take them back at gunpoint, an angel takes him to his Real Family, and tells him that the family he knew was intended only as temporary punishment until the angel in charge had died and they had lost track of his case.
But when Stan wishes to return to the family he knows, he is turned down after having used his one Christmas wish to have Lewis' life. Opening gifts with the family, including his new wife Mary, daughter Ruth and football captain son, he finds he is still a bad father when selecting gifts. He tries to enlist Roger's aide to make a wish, but Roger gets a Porsche instead. Stan tries to get the family to wish he wasn't around, but fails. Gazing at a wine glass that looks similar to what Francine wanted, he picks at a small spot and finds that Mary hates her cleaning being criticized. He gets her to wish they weren't married and then places the angel on the tree, allowing Stan to go back to the family he knows.
Mary is voiced by Heléne Yorke.