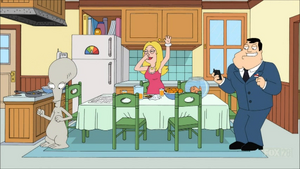 Stan's Ringtone starts Francine and Roger dancing until Stan arrives and sings along to it until he finds out it's his calendar reminding him of a meeting with Principal Lewis in "A Ward Show".
Lyrics
Stan: What's that sound
It's the calendar
On the smartphone
Having fun tonight
Is it dinner, a party, or drinks with Tom...
Ah, fuck. It's coffee with the principal at Steve's school.
Ad blocker interference detected!
Wikia is a free-to-use site that makes money from advertising. We have a modified experience for viewers using ad blockers

Wikia is not accessible if you've made further modifications. Remove the custom ad blocker rule(s) and the page will load as expected.