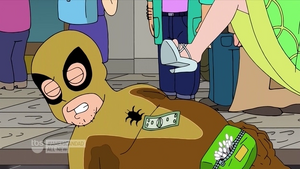 Stan Lee (born Stanley Martin Lieber, December 28, 1922) is an American comic book writer, editor, publisher, media producer, television host, actor, and former president and chairman of Marvel Comics.
Stan provides the voiceover as Francine prepares to kick a bad Spider-Man impersonator at the Chinese Theatre in "A Star Is Reborn".
Ad blocker interference detected!
Wikia is a free-to-use site that makes money from advertising. We have a modified experience for viewers using ad blockers

Wikia is not accessible if you've made further modifications. Remove the custom ad blocker rule(s) and the page will load as expected.