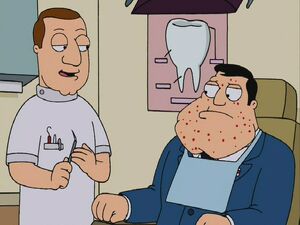 Stephen Tyrone Colbert (Born May 13, 1964) is an American political satirist, writer, comedian, actor and television host. He was the host of Comedy Central's The Colbert Report, a satirical news show, before becoming the host of the Late Show on CBS
He provides the voice of dentist Dr. R. Dandliker in "All About Steve".
Ad blocker interference detected!
Wikia is a free-to-use site that makes money from advertising. We have a modified experience for viewers using ad blockers

Wikia is not accessible if you've made further modifications. Remove the custom ad blocker rule(s) and the page will load as expected.