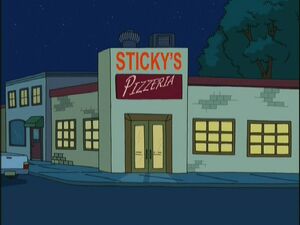 Sticky's Pizzaria is where Steve and Roger take Lindsay Coolidge and Jewel on a date in "Francine's Flashback". Roger tries to hide Jewel's ugliness by draping his napkin over her face, but she interprets it that he is trying to hide HIS ugliness. Lindsay offers to make out with Steve, but he mistakes it for rejection until he almost gets home and rushes back.
Steve apologizes to Stan in "Helping Handis" when Stan makes Steve aware that his popularity is only temporary and the guys at school only cared about his breasts. While they are there, another table with an apparent father and son send them a basket of bread sticks. When Steve waves, Stan warns him not to be too eager.
Ad blocker interference detected!
Wikia is a free-to-use site that makes money from advertising. We have a modified experience for viewers using ad blockers

Wikia is not accessible if you've made further modifications. Remove the custom ad blocker rule(s) and the page will load as expected.