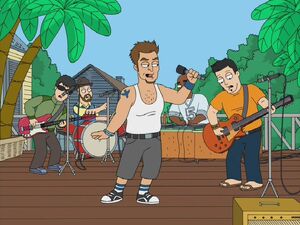 Sugar Ray is a rock band from Orange County, California. Sugar Ray's first mainstream hit came in the summer of 1997 with their song Fly. Their 2001 self-titled album Sugar Ray produced another hit with When It's Over which failed to reach the same level as their previous singles.
Sugar Ray appears at Roger's Spring Break party with a clip from their song "Fly" in "Spring Break-Up". The clip is taken directly from the album track and not recorded in the American Dad! studio.
Sugar Ray's "Fly" is used again in "Fight and Flight".
Ad blocker interference detected!
Wikia is a free-to-use site that makes money from advertising. We have a modified experience for viewers using ad blockers

Wikia is not accessible if you've made further modifications. Remove the custom ad blocker rule(s) and the page will load as expected.