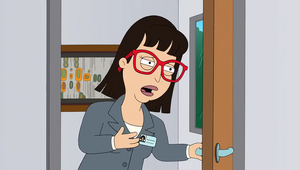 Sylvia is the receptionist at the Langley Falls Museum of Art in "Portrait of Francine's Genitals".
When Francine considers having a portrait of her vagina painted by famous artist Reynolds Jasperterian be taken down due to conflicts with Stan at home, she requests a meeting with the museum director. Prioritizing this, Sylvia rushes around the museum until she at first locates him, and then after Francine changes her mind, bursts in on a job interview between Stan and the director to let him know, as the latter reminds her that they have an intercom.
Sylvia is voiced by Ali Wong.
Ad blocker interference detected!
Wikia is a free-to-use site that makes money from advertising. We have a modified experience for viewers using ad blockers

Wikia is not accessible if you've made further modifications. Remove the custom ad blocker rule(s) and the page will load as expected.