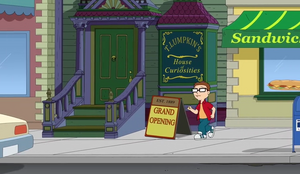 T. Lumpkin's House of Curiosities is a shop run by Roger, in the persona of Twanderlust Lumpkin in "The Witches of Langley".
When Steve and his friends face being beaten up by football players, they split up and as a result, Steve takes refuge in a curiosities shop. There, he discovers a book of witchcraft. Despite Roger's warnings not to touch the book, Steve is drawn to it when it magically writes his name inside and takes it to his friends where they discover that the magic really works. Although they pledge at first to only use the 'good magic', Steve soon lets the power go to his head and employs the evil 'blood magic' also contained in the book and sets out to enslave the town.
Snot and the others go to the curiosities shop hoping to get help before Principal Lewis, a witch hunter, can kill Steve for using the blood magic. Roger is unaware at first that his book is missing, but they figure ot that Steve is at the 90s band festival as part of his plan to enslave everyone. In the battle that follows, Barry and others are killed before Steve can come to his senses. Roger offers them an opportunity to use an 'undo' spell, but only on the condition that they buy a pewter dragon from the shop.
Ad blocker interference detected!
Wikia is a free-to-use site that makes money from advertising. We have a modified experience for viewers using ad blockers

Wikia is not accessible if you've made further modifications. Remove the custom ad blocker rule(s) and the page will load as expected.