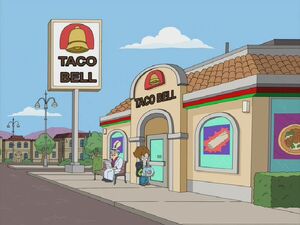 Taco Bell is an American restaurant chain based in Irvine, California. A subsidiary of Yum! Brands, Inc., it specializes in Mexican-style food and quick service.
Roger and Klaus are seen walking into a Taco Bell while visiting Rome, in which they say they will make up for it by eating a "nice Italian meal" in "Red October Sky".
When Roger's Buck Wetnap persona tells of surviving four days in a Del Taco parking lot on puddles and bird shit in "Daesong Heavy Industries II: Return to Innocence", Steve questions why he simply didn't go into the restaurant. Buck explains that it was because he is a Taco Bell man.
Ad blocker interference detected!
Wikia is a free-to-use site that makes money from advertising. We have a modified experience for viewers using ad blockers

Wikia is not accessible if you've made further modifications. Remove the custom ad blocker rule(s) and the page will load as expected.