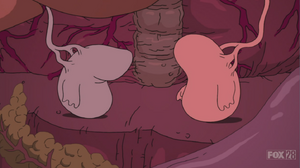 "Take_It_Back" is sung by Hayley Fischer's kidneys George and Joe in "The Kidney Stays in the Picture", unaware that they are quickly being poisoned by the alcohol that Hayley is drinking in an attempt to keep up with Francine and her friend Kelly Wilk.
Lyrics
Take it back
Do do do do do
Take it back
Yeah, yeah, yeah
Take ya...
Ad blocker interference detected!
Wikia is a free-to-use site that makes money from advertising. We have a modified experience for viewers using ad blockers

Wikia is not accessible if you've made further modifications. Remove the custom ad blocker rule(s) and the page will load as expected.