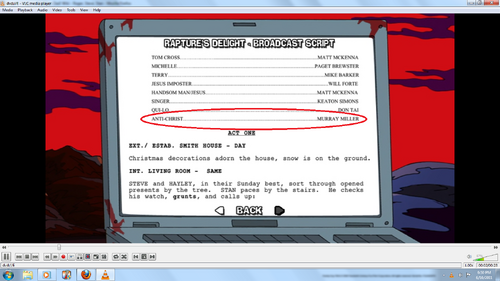 Merge
Anyone else think that this page should be merged with Nemo? (Since at the end of Season's Beatings it was shown that Nemo and this Antichrist are the same character.) TroopDude 19:19, June 19, 2012 (UTC)
Not on my watch. --Buckimion 20:22, June 19, 2012 (UTC)
Okay, but how come? 'Cos I don't exactly see it as ethical to have two articles on the same character. TroopDude 20:43, June 20, 2012 (UTC)
According to the IMDB, the Antichrist was originally voiced in the Rapture episode by Andy Samberg.
That is why IMDB is not accepted here as proof of voice performances. (Read the policy pages.) It's just as bad as wikipedia and should only be used as a guide, not your only source. See the image from the DVD/script. Andy Samberg provided the voice of Ricky the Raptor. --Buckimion (talk) 04:11, February 18, 2014 (UTC)
Ad blocker interference detected!
Wikia is a free-to-use site that makes money from advertising. We have a modified experience for viewers using ad blockers

Wikia is not accessible if you've made further modifications. Remove the custom ad blocker rule(s) and the page will load as expected.