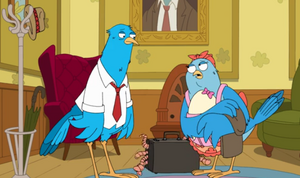 Tatianna is the bird that is seen living in Steve's birdhouse in "Flirting With Disaster". She is an mother with five eggs, one that is carried on her, and a husband. They were all killed by cheap screws bought by Roger for the birdhouse in his attempt to shave off money for his own purchases.
Tatianna is voiced by Rachael MacFarlane.
Ad blocker interference detected!
Wikia is a free-to-use site that makes money from advertising. We have a modified experience for viewers using ad blockers

Wikia is not accessible if you've made further modifications. Remove the custom ad blocker rule(s) and the page will load as expected.