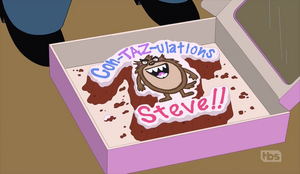 The Tasmanian Devil, often referred to as Taz, is an animated cartoon character featured in the Warner Bros. "Looney Tunes" and "Merrie Melodies" series of cartoons.
To celebrate Steve's victory in a bowling tournament in "Next of Pin", Stan buys a cake decorated with the likeness of Taz, complete with the phrase "Con-TAZ-ulations." When he believes that Steve is likely to turn pro and leave the family, he stabs him and tries to hide the evidence. However, Steve's detective work turns up all of the items used, including a receipt for the cake which Stan tries to eat to hide the evidence, but fails to actually eat the design itself.
A figure of Taz decorates the side of Haruki's RV in "The Enlightenment of Ragi-Baba".
Ad blocker interference detected!
Wikia is a free-to-use site that makes money from advertising. We have a modified experience for viewers using ad blockers

Wikia is not accessible if you've made further modifications. Remove the custom ad blocker rule(s) and the page will load as expected.