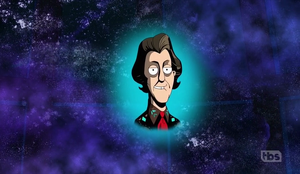 Mary Temple Grandin (born August 29, 1947) is an American professor of animal science at Colorado State University, a world-renowned autism spokesperson and consultant to the livestock industry on animal behavior.
In "Ninety North, Zero West", Santa Claus seeks to harness the power of Humbaba, a Sumerian giant, noting Grandin had also once sought out the power as well.
Ad blocker interference detected!
Wikia is a free-to-use site that makes money from advertising. We have a modified experience for viewers using ad blockers

Wikia is not accessible if you've made further modifications. Remove the custom ad blocker rule(s) and the page will load as expected.