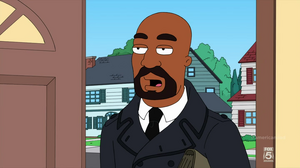 Terry Alan Crews (born July 30, 1968) is an American actor and former American football player. His film and television career includes roles in Everybody Hates Chris, Arrested Development, The Newsroom, Friday After Next, White Chicks, Bridesmaids, The Expendables, Brooklyn Nine-Nine and as himself in the BET reality series The Family Crews.
Terry provides the voice of Heinrich Brown in "Rubberneckers". He also has a voice credit in "A Piñata Named Desire".
Ad blocker interference detected!
Wikia is a free-to-use site that makes money from advertising. We have a modified experience for viewers using ad blockers

Wikia is not accessible if you've made further modifications. Remove the custom ad blocker rule(s) and the page will load as expected.