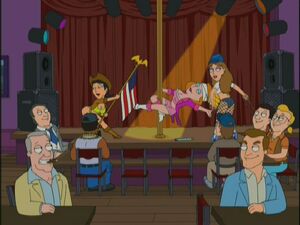 The A-Team is an American action adventure television series about a fictional group of ex-United States Army Special Forces who work as soldiers of fortune while being on the run from the military for a "crime they didn't commit". The A-Team was created by writers and producers Frank Lupo and Stephen J. Cannell (who also collaborated on Wiseguy, Riptide and Hunter) at the behest of Brandon Tartikoff, NBC's Entertainment president.
Despite being thought of as mercenaries by the other characters in the show, the A-Team always acted on the side of good and helped the oppressed. The show ran for five seasons on the NBC television network, from January 23, 1983 to December 30, 1986 (with one additional, previously unbroadcast episode shown on March 8, 1987), for a total of 98 episodes.
In The Filly Buster strip-club scene in "Black Mystery Month", the members of The A-Team are all present. In the establishing shot; Hannibal is front left, Faceman is front right, and B.A. (wearing a grey baseball cap) is back left, Murdoch is back right (wearing his brown leather jacket and blue baseball cap).
Ad blocker interference detected!
Wikia is a free-to-use site that makes money from advertising. We have a modified experience for viewers using ad blockers

Wikia is not accessible if you've made further modifications. Remove the custom ad blocker rule(s) and the page will load as expected.