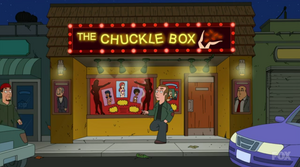 The Chuckle Box is one of a series of comedy strip clubs that Roger books Francine into to try to restart her stand up comedy career in "White Rice". After having success at Titters, she moves on the The Chuckle Box and to Hilareolas where she lands a sitcom deal with FOX.
Ad blocker interference detected!
Wikia is a free-to-use site that makes money from advertising. We have a modified experience for viewers using ad blockers

Wikia is not accessible if you've made further modifications. Remove the custom ad blocker rule(s) and the page will load as expected.