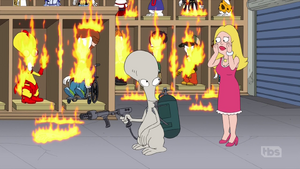 Director Joe Daniello's name appears on an ice cream store in Langley Commons.
Klaus plays "I Like to Move It" by Reel 2 Real.
When setting fire to his persona creation factory, he destroys virtually all of what he identifies as his most famous characters.
Ad blocker interference detected!
Wikia is a free-to-use site that makes money from advertising. We have a modified experience for viewers using ad blockers

Wikia is not accessible if you've made further modifications. Remove the custom ad blocker rule(s) and the page will load as expected.