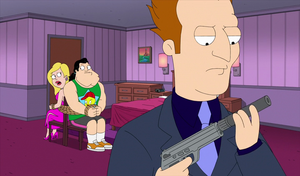 The Falcon is a master thief.
In "Casino Normale", he eludes assassination for the third consecutive time at the CIA Annual awards.
When Francine thinks that Stan's seduction skills at work would be great to have at home, she is disappointed to find he prefers their normal routine. To bring home 'work Stan', she steals a CIA thumb drive and poses as a sexy superspy. When he meets with her, he quickly recognizes who it is, but they both find that The Falcon has stolen her purse with the drive.
Realizing that he was monitoring their chat room conversation for the exchange, she goes back online and posts that she has more secrets to sell. The Falcon responds and offers to meet them in the Gold Nugget casino. Francine leads The Falcon to her room, although he insists on the stairs as he doesn't trust the elevator's notice of 'Certificate on File.' In the room, The Falcon holds a gun to her head and insists that her partner toss his gun out of the bathroom, during which Stan asks for some reading materials. They are both tied up and facing death as Francine breaks down realizing that Stan's work isn't a game. Stan takes inspiration of this to use their home life to save them, using Francine's ragged toenail to cut her bonds. When The Falcon realizes they're loose, Francine pops zits on Stan's back, grossing him out. Stan flicks a toothpick he keeps into The Falcon's throat, sending him crashing though the window to his death.