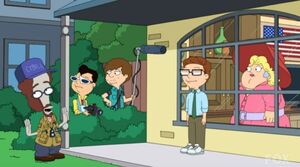 When Roger tries to talk the boys into changing their movie from Mannequin to The Goonies, he sings part of The Goonies 'R' Good Enough by Cyndi Lauper in "May the Best Stan Win".
Lyrics
What's good enough for you
Is good enough for me
It's good enough
It's good enough for me
Yeah yeah yeah yeah yeah
Ad blocker interference detected!
Wikia is a free-to-use site that makes money from advertising. We have a modified experience for viewers using ad blockers

Wikia is not accessible if you've made further modifications. Remove the custom ad blocker rule(s) and the page will load as expected.