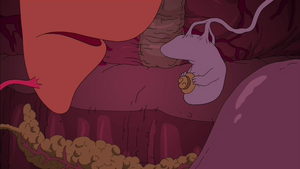 The FOX press release listed Nathan Fillion as voicing "Liver", a role that was cut from the broadcast but included in the DVD as deleted scenes.
This is Stan's second time-travel experience after "The Best Christmas Story Never", and Francine's third after "The Best Christmas Story Never" and "Fartbreak Hotel". This is also the second time Stan has interacted, either directly or indirectly, with Roger in the past, creating a grandfather paradox.
Roger previously tried to harvest one of Steve's kidneys to buy Dollywood in "Bush Comes to Dinner".
Stan begs Francine to tell him she slept with someone else to conceive Steve in "All About Steve".
Roger's various personas are all friends with each other on Facebook.
The song playing when Stan and Francine first enter The Button nightclub is "Macarena" by Los del Rio.
After describing the scene to Steve in order to frighten him, Roger follows up with removing Joel Larson's kidney to Huey Lewis and the News "Hip to be Square".
Stan's favorite fast food mascot is the Hamburgler. A Hamburgler parody, the Hamberrobber, was shown in "Less Money, Mo' Problems".
It was never revealed at the end of the episode whether Stan is actually Hayley's biological father.
Young Stan knows Back to the Future in this episode, although he claims he never heard of the film in "Delorean Story-an".
This episode reveals that Hayley was born in 1996, which would've made her 15 at the time of it's airing. However, she claimed to be 18 in "Stan Knows Best".
Stan and Francine travel back to 1996 in this episode where Roger claims to invent ecstasy but ecstasy was first invented in 1912.
Roger's 1996 persona of Dr. Ya Ya tries to catch Elián González when the Smiths arrive but the Elián González affair didn't occur until 1999-2000.[1]