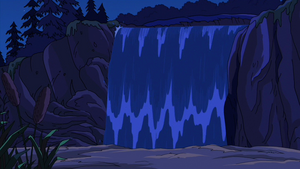 The Langley Falls is the waterfalls on the edge of Langley Falls.
Akiko and Steve go here in "Best Little Horror House in Langley Falls to hide from Toshi in caves behind the falls after Steve keeps Akiko out late while Trick-or-Treating. Toshi discovers them and chases Steve.
Steve tries to escape from his mother's intense spelling bee preparation at the falls in "Spelling Bee My Baby" and finds Akiko doing the same thing, resulting in their falling in love.
Ad blocker interference detected!
Wikia is a free-to-use site that makes money from advertising. We have a modified experience for viewers using ad blockers

Wikia is not accessible if you've made further modifications. Remove the custom ad blocker rule(s) and the page will load as expected.