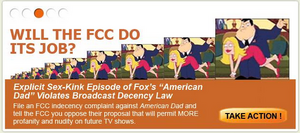 In the opening credits, Roger's usual "Good Morning USA" line is muffled by his costume.
The PTC named this episode to their worst show of the week list and started a campaign to complain to the FCC as part of a preemptive action to head off a relaxation in FCC rules. In the process, they got numerous details about the show and episode wrong.[1]
Kenny Wayne Shepherd's "Spank" plays during the montage.
Midget Assassin is seen when Stan and Francine are having their "kinky" sex at the end. However, Midget Assassin was killed by Francine in "License to Till".
LAX airport being 'Dadded' is a running joke first used in "American Stepdad".
In the first scene with Francine in Roger's Place, he has 6 tap handles in the back of the bar. During the second scene with Stan he has only 3, and in the front. In the third scene with Francine again, the 6 have returned to the back of the bar.
Stan mentions that God is his favorite author while holding up a Bible. In reality, the Bible was written by several men spanning thousands of years.
Ad blocker interference detected!
Wikia is a free-to-use site that makes money from advertising. We have a modified experience for viewers using ad blockers

Wikia is not accessible if you've made further modifications. Remove the custom ad blocker rule(s) and the page will load as expected.