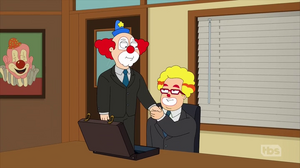 The basic character design of Clown with Glasses is recycled as one of the clowns on the North American Federating of Clowning Academics board, being given red hair, a suit and recolored hat although the star remains.
Mayor Woodside appears for the first time since debuting in "Every Which Way But Lose".
The mural features Abraham Lincoln, Ronald Reagan, Jesus, baseball player Nolan Ryan, and the character Schneider from the sitcom One Day at a Time. Hayley suggests Harriet Tubman as a replacement.
Roger says that Steve could be next Emmett Kelly, a famous clown, of sucking.
Stan plays Warrant's "Cherry Pie" in Hayley's Hideaway
Stan compares Hayley to Eva Marie Saint
Dr. Weizmann is ashamed to own a MADtv box set
Steve teaches a class on The Bell Jar.
Headlines in the Langley Falls Post read "Bad Woman Does Bad Thing" featuring Hayley. "Re-Restored Mural to be Unveiled" featuring Stan. A sub-headline in this paper reads "President Eaten Alive by Jackals."