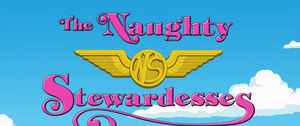 The Naughty Stewardesses Theme, sung by Randy Crenshaw, is a mock television drama theme presented in "Introducing the Naughty Stewardesses" for the high-flying antics of Margie, Denise, Christy and Angie, collectively known as "The Naughty Stewardesses."
Lyrics
Free love in the skies
Flying town to town
Put your tray tables up
While these ladies go down
They'll blow you away with their crime-solving chops
Connecting the dots while guzzling shots
These ladies are hotties
With rock-hard bodies
They're the Naughty Stewardesses
Ad blocker interference detected!
Wikia is a free-to-use site that makes money from advertising. We have a modified experience for viewers using ad blockers

Wikia is not accessible if you've made further modifications. Remove the custom ad blocker rule(s) and the page will load as expected.