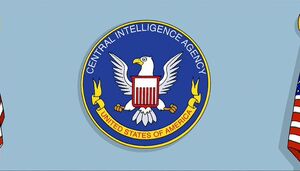 The New CIA is a short film that preceded the film Fever Pitch as a promotion for American Dad! available in the special features of disc 3 in the American Dad Volume 1 DVD. In the film, Stan tries to host a promotional film showing what is going on with the CIA. But when he tries to show how "normal" his family is, things go wrong, especially when Hayley's liberal views come out, when Steve tries to pick his nose, and when Roger reveals himself in the open. When his family gets out of control, Stan shoots the camera.
Ad blocker interference detected!
Wikia is a free-to-use site that makes money from advertising. We have a modified experience for viewers using ad blockers

Wikia is not accessible if you've made further modifications. Remove the custom ad blocker rule(s) and the page will load as expected.