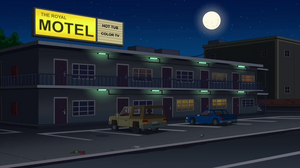 The Royal Motel is where Stan tries to place a microphone on a mission while posing as a woman in a fantasy of Francine's in "Widow's Pique".
In the fantasy, Stan dances in the motel before an enemy agent in an attempt to place a microphone. Passionately kissing his target to speed things up by getting him to swallow it, his cover is blown when a tape recorder with a female filling in for his voice is heard conversing with him and he leaps from the motel's upper level, crashing into the ground.
Ad blocker interference detected!
Wikia is a free-to-use site that makes money from advertising. We have a modified experience for viewers using ad blockers

Wikia is not accessible if you've made further modifications. Remove the custom ad blocker rule(s) and the page will load as expected.