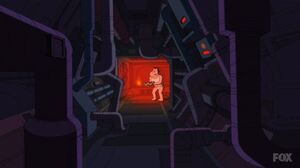 "The Sign" is a 1993 dance-pop song by the Swedish band Ace of Base. The song was an international smash hit, spending six non-consecutive weeks as number one on the Billboard Hot 100 chart in the United States, also reaching Number two in the United Kingdom. It was on an album called Happy Nation in most of the world, but The Sign in North America.
Roger torments the Smith family by playing and then singing the song when they try to flee from his wrath onto a space station after giving him a roast on his 1601st birthday in "Great Space Roaster".
Lyrics
Very off-key Roger: I saw the sign and it opened up my eyes
I saw the sign...
Ad blocker interference detected!
Wikia is a free-to-use site that makes money from advertising. We have a modified experience for viewers using ad blockers

Wikia is not accessible if you've made further modifications. Remove the custom ad blocker rule(s) and the page will load as expected.