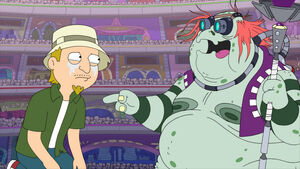 The Summoner is used on Roger's home planet to bring forth The Majestic to probe Jeff Fischer's mind in "Lost in Space" to prove he was always in love with Hayley and win his freedom.
The Summoner is voiced by Scott Carney of Wax Fang.
Ad blocker interference detected!
Wikia is a free-to-use site that makes money from advertising. We have a modified experience for viewers using ad blockers

Wikia is not accessible if you've made further modifications. Remove the custom ad blocker rule(s) and the page will load as expected.